Nichepickr
Our first tool is the most powerful product recommendation tool known to the e-commerce market. You just give us a few (English) keywords and we show you related keywords with products. We rank these products based on four key pillars:
Buyer Demand, Competitor Check, Financial Fit en Profit Potential
Nichescore
The final Nichescore shows you how the product scores on average on the above points. With a score above 65-70% you are usually in the right place, but there are also products that score above 80%. Then you have already identified a very profitable product!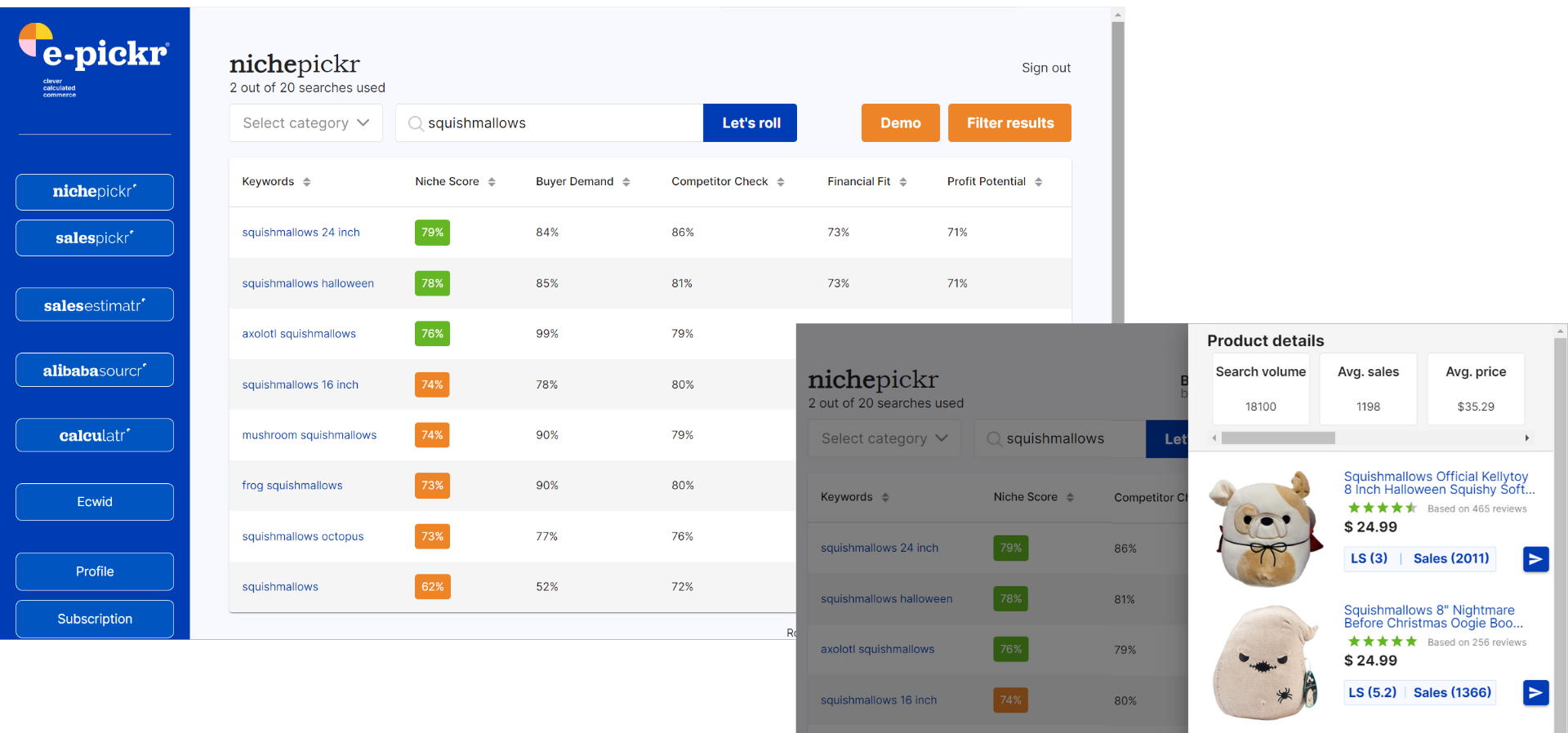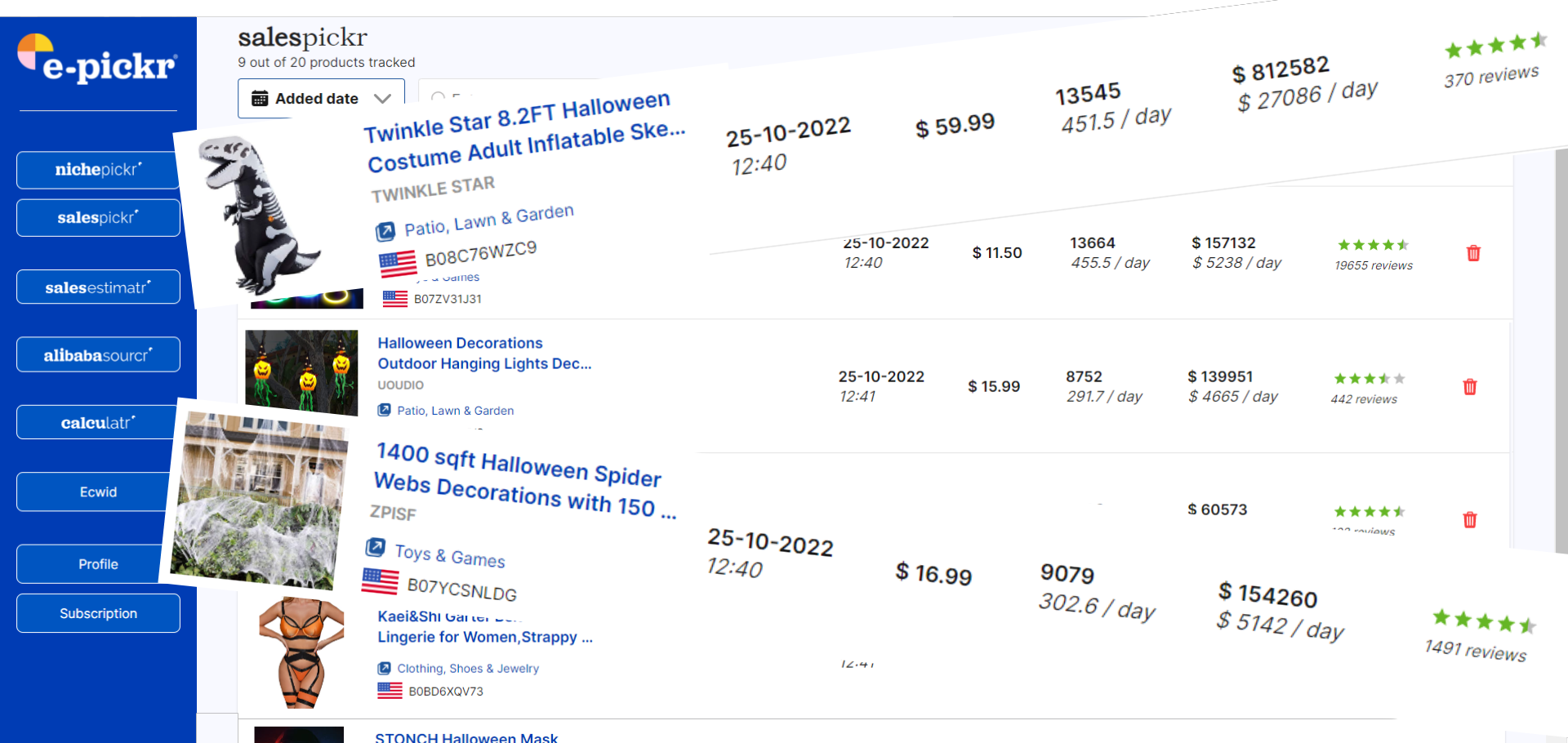 Salespickr
If you have found a good product in the Nichepickr, then you can use the Salespickr to check whether this product also sells well over different periods of time. For example, how were the sales one week, one month or one year ago? By comparing this month's current data with historical data, you can learn more about product trends.
It could be that your product is seasonal, or even dependent on a celebration such as Christmas or Halloween. So it's important that you know in advance when you need to buy a product and how many pieces you think you can get rid of.
We show you how many products were sold a while ago, so you can see if the trend is up or down. Rising and falling sales and prices can in fact be indicators of rising or falling trends.
AlibabaSourcr
In addition to finding the most profitable products, e-pickr now helps you find the right suppliers for those products. Have you found a gap in the market and are looking for a supplier that will deliver the right product on time? Then the AlibabaSourcr can help you identify the best supplier for your e-commerce store.
How do I find a supplier for my webshop?
Simple: with e-pickr's AlibabaSourcr. We show you which suppliers are the most responsive, have the best reviews, the strongest prices and have been in their industry the longest. That way, you make a better choice in not only your assortment, but also in your supply chain - like a true e-com director!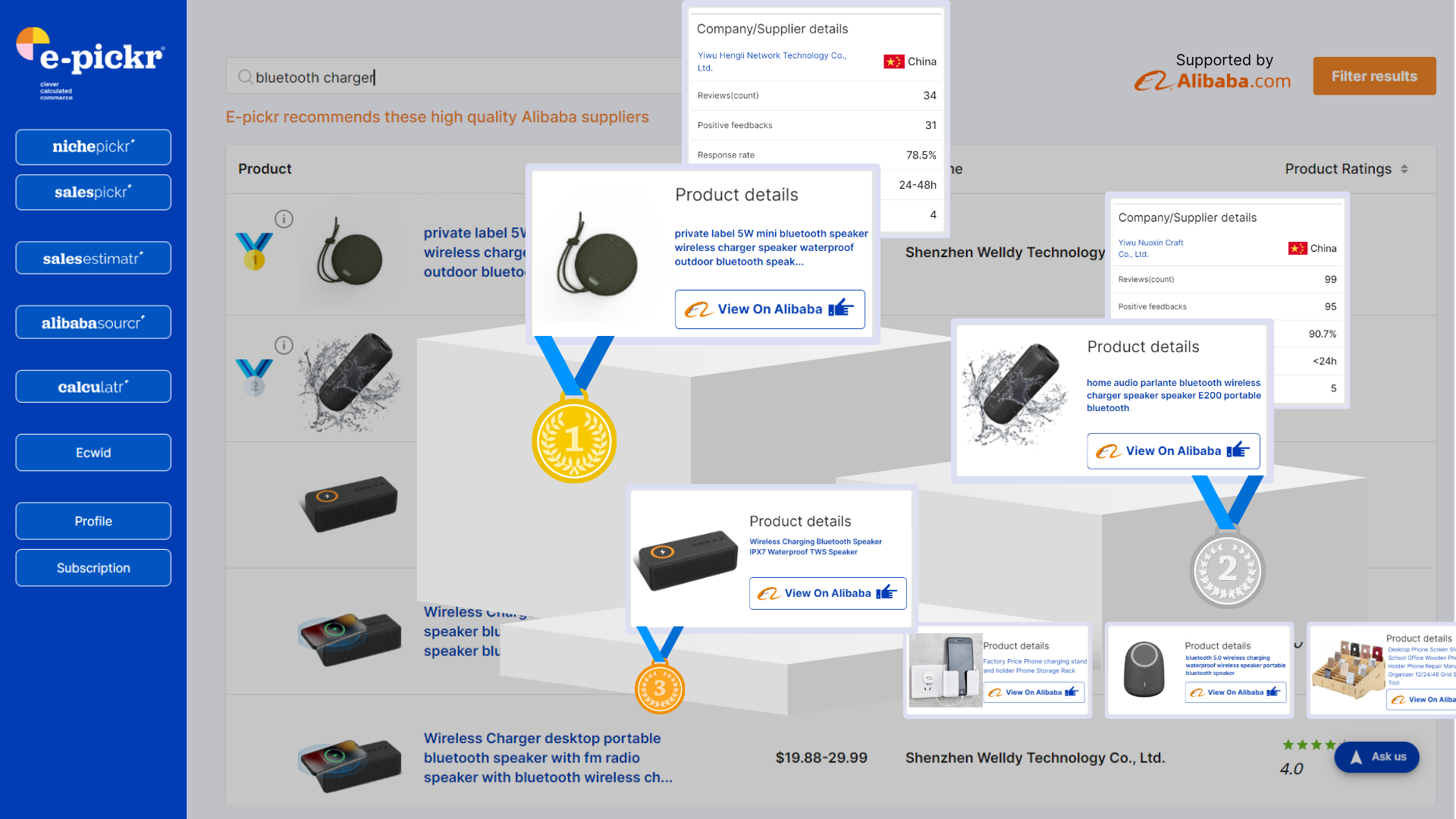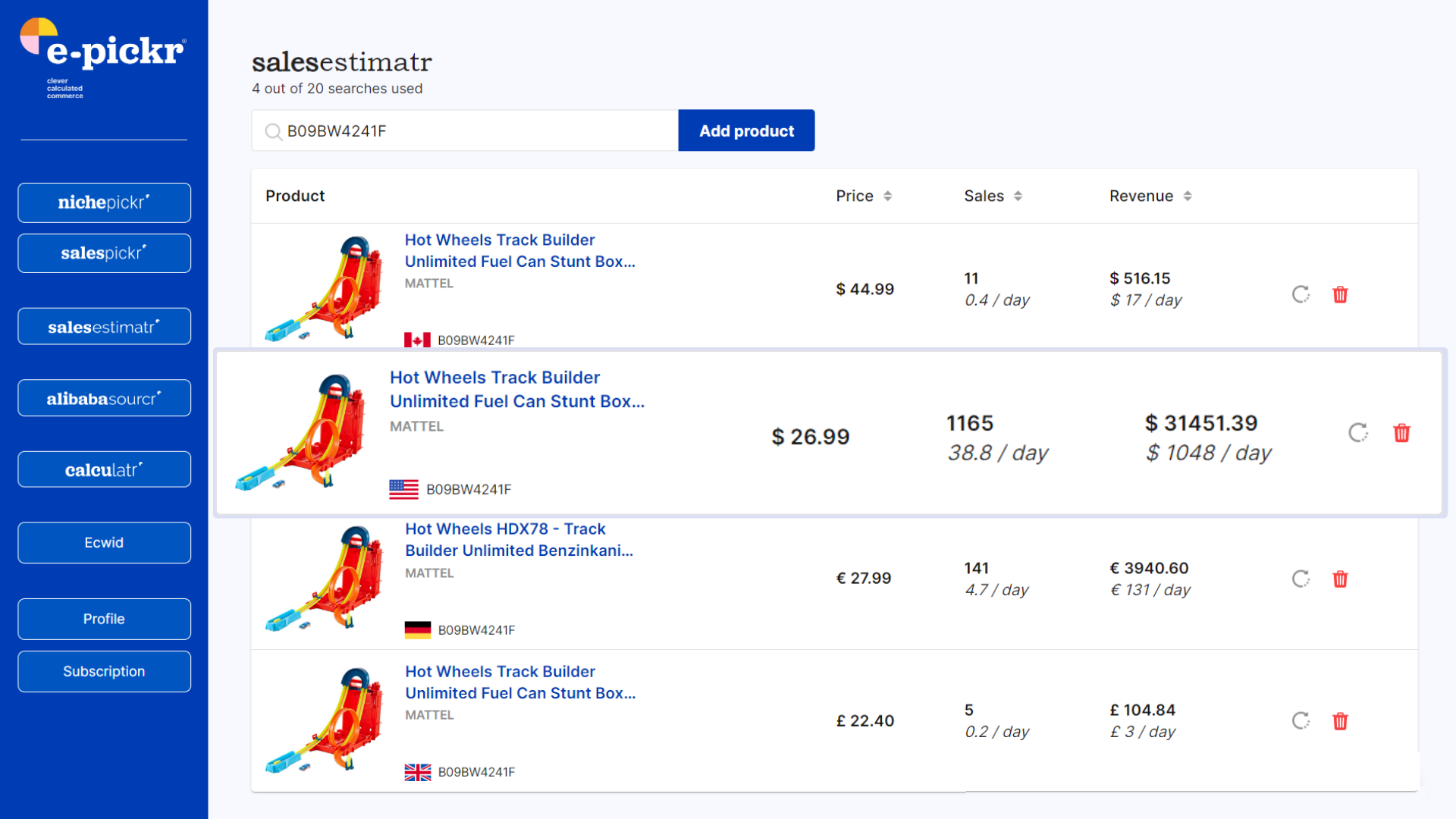 Salesestimatr
Our third tool is the best locator of interesting e-commerce markets. The world is bigger than e-commerce Netherlands, and with 50,000 Bol.com sellers out of 17 million Dutch people, the market is also very tight. Address billions of people by starting your own webshop through Amazon or your own. We get you started with insights into the market in Germany, the United Kingdom, the United States and even Canada!
Find which product you should offer now and in which country you can do this best with the Salesestimatr. Scale your business yourself, but still rely on the same data insights you're used to from e-pickr. More countries means more sales, and a bigger audience means lower competition. Read more about exactly how Salesestimatr works in the link below.
Calculatr
For determining the profitability of a product, fortunately there are standard formulas that can help you with this. Avoid typos and time-consuming calculations with the automated e-pickr® calculatr.
We tell you exactly the expected profits, profit margins and breakeven points for all your products. You can count infinitely on us and now with us! Trust the academic calculations advanced business analytics and statistics of e-pickr®. Moreover, we immediately include commission costs and shipping costs via Bol.com or Amazon.
Become even more successful in e-commerce with the free help of e-pickr®.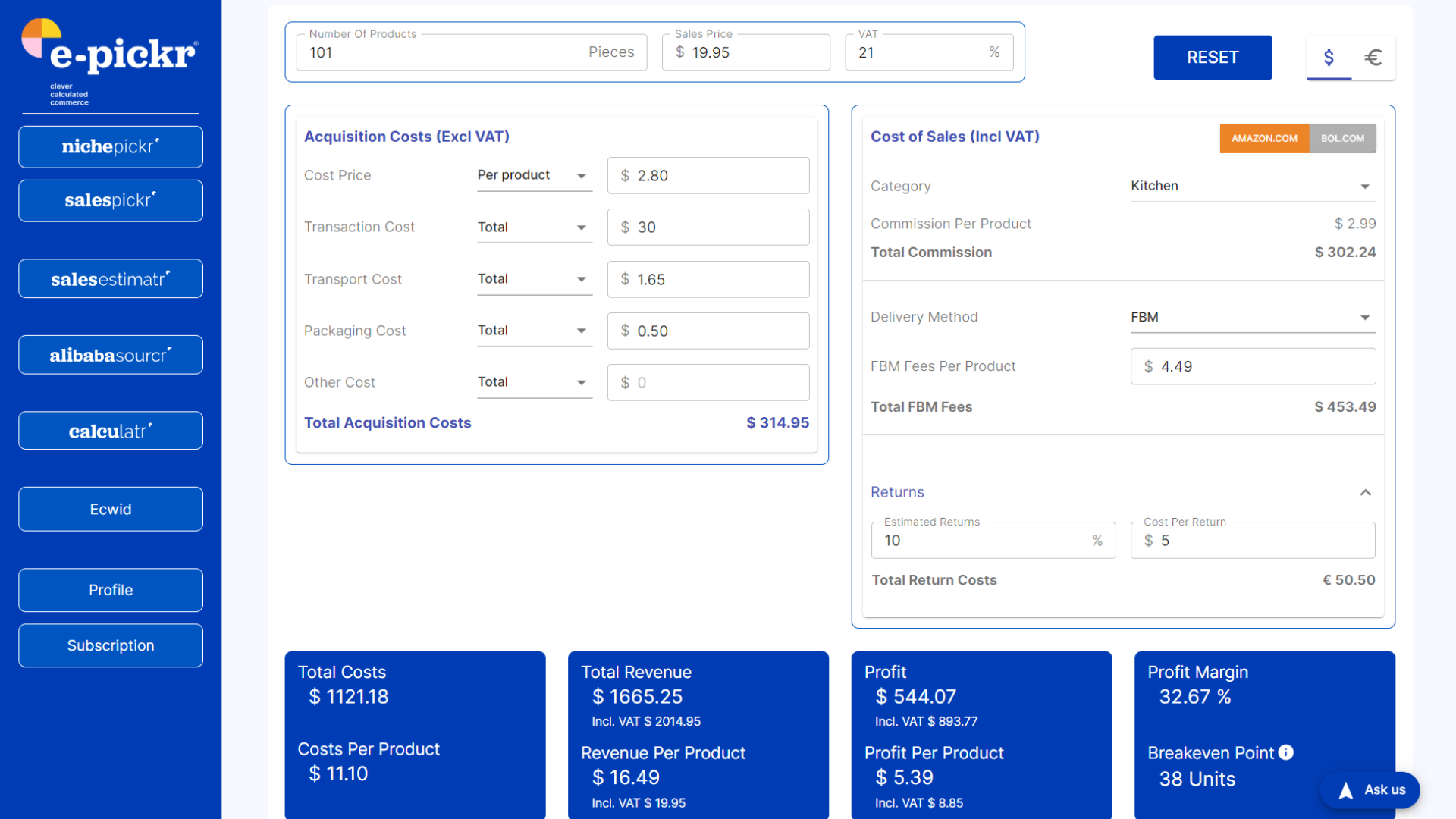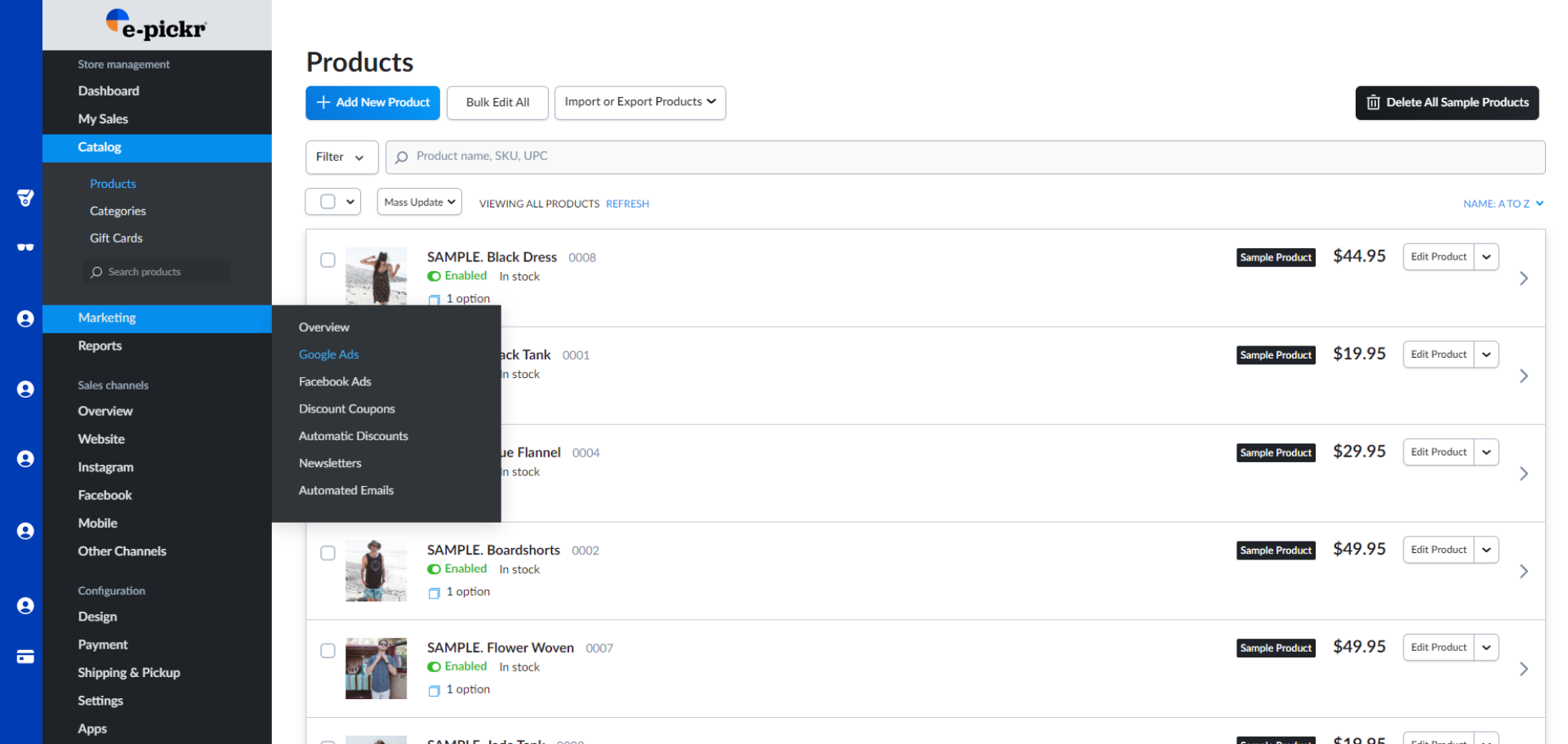 Ecwid by Lightspeed
We not only have the strongest e-commerce product research tools for you, but also the best partners to make your e-commerce even easier, even more secure and even more profitable. One of these partners is Ecwid. Ecwid helps e-commerce businesses build websites without coding.
Through Ecwid you can also bundle all your e-commerce marketplaces in one dashboard. Control your sales across all your channels through one clear platform. Also keep your customer contact, ads and returns in one user-friendly page. Through the integration of Ecwid in the e-pickr® platform, you have your product research and all the advantages of Ecwid in the e-pickr® app!
Partners
e-pickr easily takes the complexity of product research off your hands, but of course there are many other components involved in successful e-commerce. Think of accounting, taxes, order picking, purchasing and marketing. For all these matters where you might need a hand, e-pickr has a professional party for you that will be happy to help your business along!