For whom is a price tracker a must-have?
For all e-commerce customers who want to know how a competitor prices their products from hour to hour or for more insight into the profitability of a product, there is now the salespickr with a price tracker. Salespickr bases how well a product sells on more than 100 criteria, but not just today. No, the salespickr price tracker goes deeper than that. To be exact, up to 365 days back! Get more certainty from your data before selling a product with e-pickr®'s historical price tracker.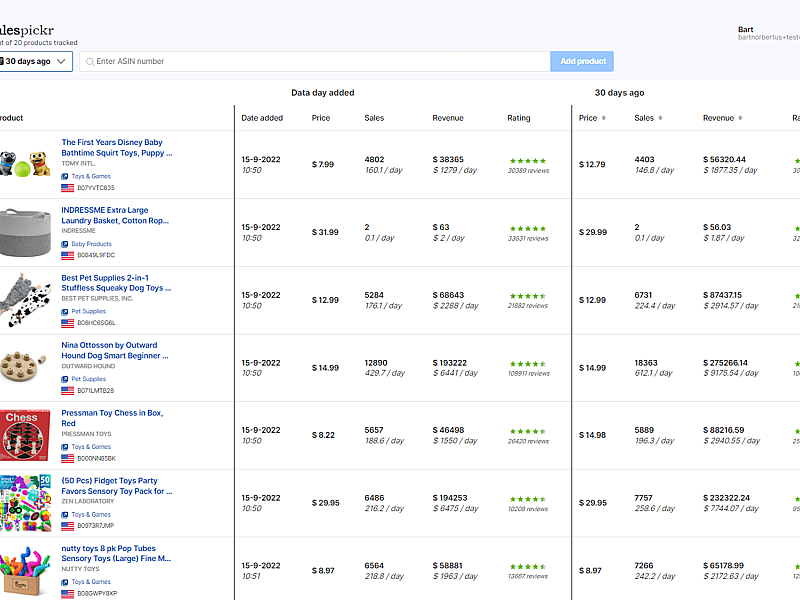 What can you do with a price tracker tool?
Do you want to recognize trends in the prices of your competitors? Then you can see this in the salespickr price tracker data. In fact, the data from the past week, month or year are good starting points for recognizing future trends. If a product increases in price, or sales and reviews, then it might be an emerging product. For example, we saw in the price tracker that swimming pools were already heading towards double-digit prices since April/May this year compared to the winter period.
Conversely, we noticed that the price of Rituals products did not fluctuate much in recent months. So the interest in Rituals products is relatively constant. During the same period, we saw that Lego products shot up in price again. So be aware of trends in the market before the competitor gets away with it by using a price tracker!
How does the price tracker work?
To use product price history meaningfully in your e-commerce business, we'd like to explain how the price tracker tool works. By carefully picking apart a massive pool of data from Amazon and extracting the relevant data for you, you can now make a better decision on what price to charge for your product. You can also see what a competitor is asking for their product in the price tracker and adjust your price accordingly.
By adding an ASIN product code from Amazon in the price tracker salespickr or forwarding the product from the nichepickr, you can see how well that product sells today. Then by selecting one of the buttons in the price tracker by date, you can see what a product did like over time. Did the price go up, the number of sales go down, or the number of reviews increases dramatically unexpectedly? You can now track it with the price tracker.
Benefits price tracker
The advantage of the price tracker for you is that you can see at a glance not only that the price has increased or decreased but also how this relates to the number of sales, reviews and the number of reviews. After all, pricing strategies are not in isolation. There is more to determining a product's right price than cost and the desired profit margin. External factors include competition, market demand and how the product is liked in the marketplace. All of these factors form a balanced picture of a particular product. So if you read through the analysis, you will know precisely what is a reasonable price and what is not. Thus, the price tracker helps you get more sales and more profits.
Whether it's an e-commerce business on Bol or Amazon or your own Shopify or Ecwid store, your business will benefit by focusing more on data like the price tracker from e-pickr®. Try the price tracker tools for yourself and find out if your price is right in the market or if you can perhaps charge even more for your products. As an affiliate, you can also use salespickr. To choose which products to use for promotion, you obviously want to receive the highest commissions. So for that, you will want to find a high price and high sales volume.
Try the salespickr price tracker for yourself and make your e-commerce journey a success story!