Amazon
The world's largest seller platform with millions of users every day. Jump into the deep end and make your sales adventure one to remember! Together with Plazatalk we would like to explain to you the easiest way to start selling on Amazon. Be quick and become one of the first Amazon sellers in the Netherlands on Amazon.com!
Through our partnership with Amazon, we have information about products that you as a user would like to be able to see. So dive deep into our tools and find the diamonds in the market yourself!
Bol.com
The largest seller platform in the Netherlands with more than one million buyers. Start with a safe haven full of potential and 15 million different products. As a Bol.com sales partner you benefit from the cheapest shipping labels in the Netherlands and Belgium, and easily use logistics via Bol (LVB). The fastest and most helpful customer service will answer all your questions within one day, so you stand strong together!
As a Bol partner we have insight into sales results of various products. Through our partner network with other tool providers we would like to give you data on Bol.com in the future. Subscribe to our newsletter to know when new tools and updates are released!

Blue Dragon
Let the most creative marketers and strategists in the Netherlands translate your values and visions into a sleek logo and strong brand. This way, you will not only stand for sales, but for complete branding with quality. This branding can give your products a unique value that customers will gladly pay for! Invest in the future of your e-commerce business with the best marketing office in the Netherlands!
In a partnership with Blue Dragon, we have found the same passion for supporting entrepreneurial Holland. Not only the big e-com dragons, but also the little ones are welcome here!
Clover
Do you take your photos and product videos yourself, or do you copy them from Alibaba.com? Of course, you can do much better. Consumers are picture viewers. It is therefore important that your images are convincing and inviting. Clover takes the best photos and videos of your products at an attractive rate. This way, your bestsellers will appear professionally on your website!
Do you still take your own photos? We don't anymore thanks to our partnership with Clover. They take the best photos of your bestsellers.
In cooperation with..

Alibaba Group
The largest Wholesale company in the world has successfully tied up with e-pickr®. Find all your profitable Nichepickr products quickly and at the best prices on Alibaba.com. Here you not only have access to 200 million diverse products, you also negotiate your prices with more than 200 thousand different manufacturers across Southeast Asia.
Through a selective and unique partnership with Alibaba Select, we have access to unique data from this global wholesaler. So not only know what to sell, but also adjust your purchasing strategy accordingly with our Alibabasourcr!
AliExpress
Are you looking for a reliable dropshippers partner? Then you've come to the right place at AliExpress. More than one million customers per month and the most attractive prices and ever faster deliveries make this buyers platform the best choice for your dropshipping store. Integrate your offer directly with those of the sellers on AliExpress!
As AliExpress itself puts it, "dropshipping starts at AliExpress". Make sure your products found on e-pickr are also available in your online store through the integrations with AliEpress, for example!
Ecwid by Lightspeed
As Ecwid itself says: 'Handsdown a better pricing than Shopify'. Easily build your own webshop and benefit from Ecwid's all-in-one platform. Leverage Ecwid's fulfillment partners and delivery services worldwide. Run your Facebook and Google Ads directly from the Ecwid platform and arrange all your sales accounts easily in one environment. Now also available on e-pickr.com.
Perhaps the strongest kind of partnership in the market. Through this integration you can now use the additional tools of Ecwid in one platform, on e-pickr.com. So you can manage your own webshop directly from your product research tool.
U-Send
Do you prefer to work with an agency that handles the deliveries of your dropship business? Then U-Send is not only the cheapest for all your deliveries worldwide, but also the fastest! With a completely new design and attractive rates, U-Send takes care of your deliveries from factory to customer. The personal customer service is available daily for all your questions!
As a select partner of U-Send, we are building a more automated e-commerce world together. This makes online business even easier for you. They handle your shipments for your dropship webshop.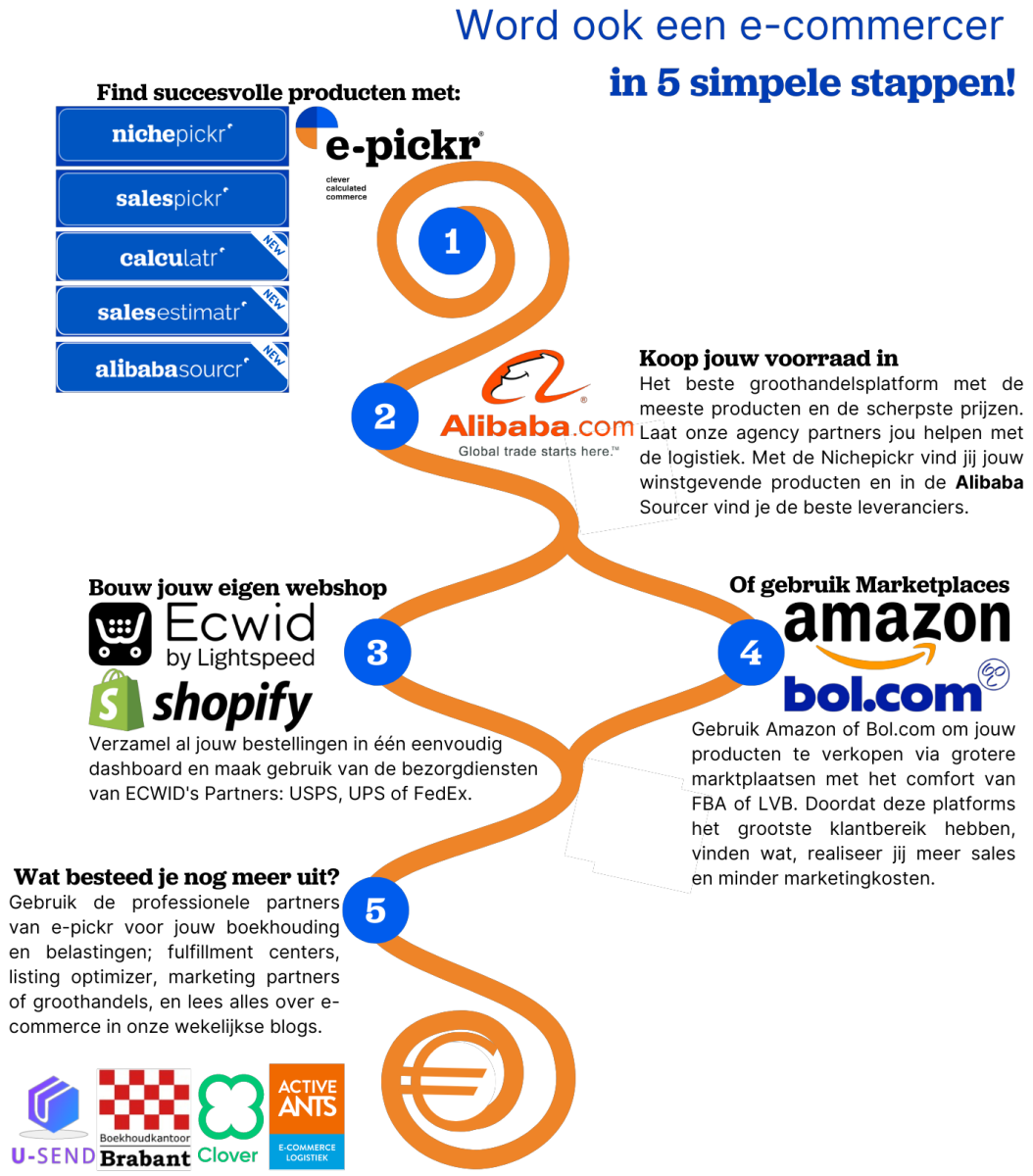 ENTRPNR
All the peripheral issues of accounting and taxes are a distraction from what you do best: business! That is why ENTRPNR's online accounting system makes it easy for you to do your returns and bookkeeping at the most attractive prices. You submit a photo of your receipts of purchases and sales to them, and they do the rest. Simpler and more fun for you as an ecommerce user!
Especially for e-pickr users, ENTRPNR has a special price to keep your accounting and bookkeeping for you. Make online business familiar while focusing on what you do best: selling!
Profectum
Would you like to have a personal accountant who will do all your tax returns and bookkeeping for less than 100 Euro per month? Then Profectum's professional financial advisors are your best friend! This company has been active in the Dutch tax and accounting system for decades and knows everything about your e-commerce issues. Personal contact and customer care are highly valued at Profectum!
Full of passion and innovation, Profectum is growing as fast as e-pickr. Together we work on more automation in your e-commerce business!

Active Ants
If you are growing too fast to pack and ship your boxes yourself, then outsourcing this part of your e-commerce business is a good investment. With Active Ants' fully automated order picking and packing, orders are delivered the next day in the Netherlands until 10 pm. The fastest deliveries for your products at home and abroad!
Small packages in a large data-driven fulfillment center. As a partner of Active Ants, we are happy to refer you to this unique way of outsourcing. No more packing packages yourself, just outsource!
Plazatalk
More than 15 years of e-commerce knowledge and experience can be found on Plazatalk.com. The experts offer you free courses, tools, tips, tricks, blogs, vlogs, master classes and partners for your sales via Bol and Amazon. You can find everything you are looking for in terms of knowledge easily and often even for free on the conveniently arranged platform. In one fell swoop, your company will have a mountain of reference material for all your questions. Join this community with more than 26 thousand members!
As a loyal partner of Plazatalk, we are happy to refer you to the many free resources they have available for you. Because of our shared vision "anyone can e-commerce", we can't wait to give you a FREE e-pickr account too!