What is the Nichepickr product tracker ?
Nichepickr is the first free product tracker tool on the market that shows a wide range of interesting products to you as an e-commerce user. If you are interested in a particular niche or product group, you can type a keyword or a few keywords into the search bar of the product tracker. Based on this, e-pickr® searches its huge database for the best matches for that search term. The product tracker provides a list of related search terms that best match your entered product.
+100 Scientific Algorithms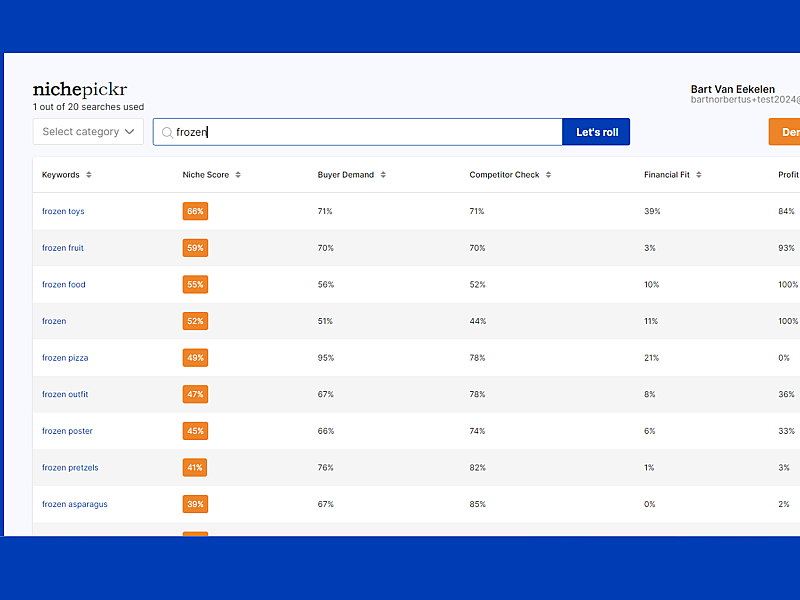 How does the free product tracker work?
As a smart entrepreneur, you shouldn't just focus on high sales. After all, a high purchase price or strong competition can put you out of business. That's why e-pickr®'s product tracker has over a hundred algorithms that calculate for you how a product scores on the four e-commerce pillars.
Demand
Profit
Turnover
Competition
Your product receives a score for each pillar. In the end, the free product tracker calculates the average of these four scores, indicating how likely it is to sell successfully.
Did your product pass the Nichepickr test? Then you can assume it's a smart investment! The product tracker tool gives more certainty in your investments. This way we take the risk out of e-commerce.
Who is the product tracker interesting for?
The Nichepickr product tracker is made for both starting and growing e-commerce companies. Are you not quite sure what to offer? Or do you already have a few products and want to check if these are the right choices? The free product tracker helps you discover which products to invest in, so you are guaranteed a successful business!
The results the product tracker shows are only visible and unique to you, which means competition cannot just copy your new ideas! That way you won't wake up the competition, and you'll always have a unique and successful product on sale. Discover products that sell well and trends before the rest of the market find them.
Why e-pickr®?
The Nichepickr product tracker gives you unique data about the huge amount of products sold on Amazon. By not only starting from the products of Bol.com, you can also more easily find products that are not yet offered in the Netherlands. That way you'll be the only one on the market and earn the most from your investment!
✔️ The first free artificial intelligence (AI) driven product research and tracker.
✔️ For anyone who wants more certainty before investing in products.
✔️ Access to the world's largest e-commerce product database with 300 million products.
✔️ Free trial and discovery without leaving payment details.
Try the Nichepickr product tracker for yourself and turn your e-commerce journey into a success story!