Selling on Amazon or Bol: Which choice is smart?
As a young, ambitious entrepreneur, do you want to earn good money and have a good time? Then selling through Amazon or Bol.com is a good solution. This is an intelligent alternative to a standard side job as a shelf stacker or in a restaurant, where the times work out poorly, and you work your legs out from under your body. It is also increasingly more work to pay your expenses from those hours. With rising housing costs and inflation, making ends meet is only getting harder.
You'll read about selling on Amazon or Bol in this blog. We'll explain why selling on Amazon and Bol pays so well and whether you should sell on Amazon or Bol.com.
Why sell on Amazon or Bol?
First of all, selling on Amazon or Bol earns so well. But you've heard Joshua Kaats and Jia Ruan say that ten thousand times, too. Whereas they discarded the whole image of selling through Bol or Amazon, they were right about one thing: selling through Bol is exceptionally profitable. Bol.com makes some 5.5 billion euros in sales per year. Its 50,000 sales partners are said to account for half of this revenue. That means a partner makes an average of 55,000 euros in sales annually. From experience, we can confirm this amount. So that's more than 4,500 euros in turnover per month. You can read this blog for more benefits about selling via Bol or Amazon.
How does selling via Bol.com work?
Signing up for Bol.com is relatively easy. You can put your product range online in just a few simple steps!
In five steps, you set up your Bol.com sales account:
1. Register at the Chamber of Commerce and open a business account.
2. Register with Bol.com as a sales partner.
3. Do product research with e-pickr® and find the most profitable products
4. Purchase your inventory through a wholesaler (such as Alibaba)
5. Put your listing on Bol.com online with an EAN code and start selling
How does selling on Amazon work?
For Amazon, selling works primarily the same as on Bol.com. However, there are a few perks that Amazon has put in place to better protect its customers and ease Amazon's international operations. You can read more details about how selling on Bol.com or Amazon works in this blog.
Advantages and disadvantages of selling through Bol.com or Amazon
Whether you sell through Bol or Amazon, both sales platforms have advantages and disadvantages.
Advantages of selling through Bol.com and Amazon
Whereas Bol.com is much easier to use than Amazon, Amazon does have a much wider audience to appeal to. Thus, finding a customer on Amazon for your products is a lot easier. After all, you have more than 2.5 billion annual visitors, while Bol.com only gets 131 million website visits. So that's 20 times more likely to sell your products on Amazon.
Conversely, it is much easier to find a gap in the market on Bol.com because Amazon already offers 300 million different products. This makes it harder to add another new product to the existing range. On Bol.com, there are only 1.5 million products. So that means you can make 200 times more additions to the assortment here.
The figures on the benefits of both Marketplaces are listed in the following image. Depending on your preference, you can use this to determine whether it is wiser to bet on a larger target group or a more specific assortment. There is something to be said about both strategies. Still, the advantages of selling through Bol.com differ from those of selling through Amazon.
Disadvantages of selling through Bol.com and Amazon
The most significant disadvantage to selling through a Marketplace like Bol.com or Amazon is that you must accept and abide by that company's rules and conditions. So, for example, you will have to remit commission which directly reduces your profit margin. Unfortunately, this is a price you will have to pay to take advantage of the name recognition Bol.com and Amazon have created over the years. There are also several disadvantages specific to Bol or Amazon. You can read the blog about the Pros and Cons of selling through Bol.com or Amazon.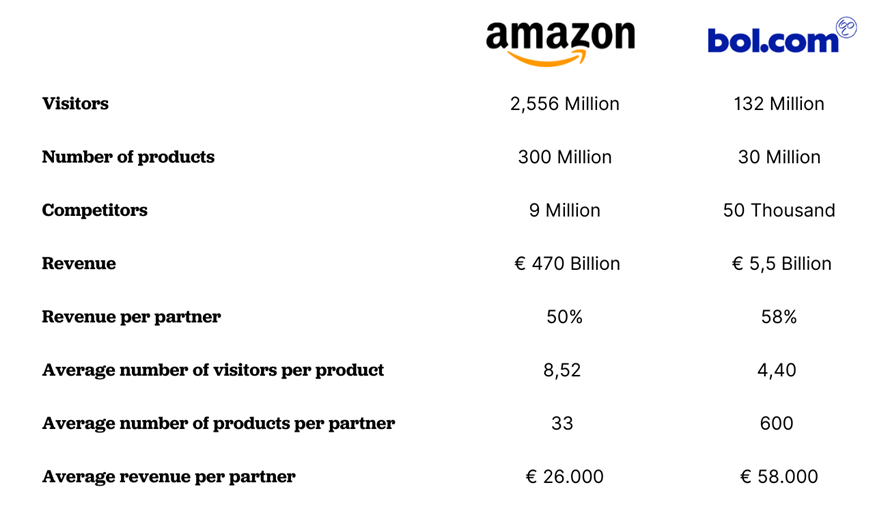 What does selling through Bol.com or Amazon cost?
The cost of selling through Amazon or Bol fall short can be summarized into four simple cost items:
1. Purchasing your inventory
2. Commission fees to the Marketplace (Bol.com or Amazon).
3. Shipping costs
4. Inventory management and fulfilment (if you choose to do this).
You can easily find more figures and examples in this blog: What does it cost to sell via Bol.com or Amazon? Here we also explain what the commissions, shipping and fulfilment costs are.
Which is better: selling through Amazon or selling through Bol.com?
Ultimately, you are the deciding factor. If you want an easy side job, Bol.com is the way to go, but if you think you can get more out of e-commerce, you should look at Amazon. Amazon is many giants and could bring you much more revenue. In the process, investment and inventory management also grow with it. So these are options you will have to consider for yourself. In sales, the expectation based on averages is more in Bol.com's favour. Still, this data can be heavily influenced by a few large parties who make a lot of sales and raise the average significantly. Or the figures on sales, several partners and products are not accurate.
To get this data as accurate and insightful as possible, you can start by doing your product research on e-pickr®. We help you identify the best-selling products in the market. Furthermore, we show you exactly how many products are selling, what better alternatives there might be, and what sales you can expect. Also, with e-pickr®, you can easily see the price and sales over the last period. We show you how many keywords are being searched for your products. You can quickly see whether there is much or almost no competition for your new products.
So if you're an e-commerce professional or planning to start, it's a good idea to check out e-pickr®'s free product research. This will make your e-commerce journey even less risky, and you will soon achieve higher sales and profits.